THE
PROBLEM
Lampada Digital Solutions, who are a wholly owned subsidiary of the University of Hull, started work on a project to develop a series of 360 videos for the university's official partner Team GB as part of their 'Games Readiness programme.' The programme's objectives it to educate athletes about the environment in which they will train, eat, socialise, and rest at ahead of competition. A key part of preparing for elite sporting events is to ensure athletes familiarise themselves with key venues and equipment, so that they can adapt quickly to their surroundings when arriving for competition.
The University of Hull committed to the project to help the 367 athletes travelling to competition in Tokyo to ensure they could experience the venues and familiarise themselves to help with their preparation. The global Covid-19 pandemic also meant that many members of the sporting teams and British Olympic Association were not able to fly out prior to the games. Lampada helped the University find a solution to create the venues within a 360 format.
A team from the University of Hull visited Tokyo back in December 2019 to capture 360 camera footage of the key venues as they would be for the games. The footage was then partly rendered by a team of students and academics from the university. However, due to the pandemic there were delays to the project and most of the students involved had graduated, meaning there was no project team to continue with the development. With limited resource and the deadline fast approaching, there was a need to look at the work holistically to see what could be done to achieve the targeted project outcomes.
THE
SOLUTION
Lampada reviewed the current assets and scoped the project so that we could agree on a realistic plan, and adopted an agile management approach to help get the project back on track to ensure that the set outcomes were delivered on time and to a high standard.
The appointment of a project manager and a software lead ensured the agreed project timings were achieved, and that any assets produced were signed off in a timely manner so that feedback was received and actioned immediately.
The 360 videos were all approved with the relevant branding and furniture to replicate exactly how it would look for the athletes. The University of Hull scoped a comms plan to share the videos to 400 athletes and staff across 21 sports, which brought to life the venues for them. There was also an interactive experiences for all athletes to view the content on the cardboard 360 video headset, complete with all the simulated virtual environments. This was well received by team leaders, who felt that they could use this to create their best plan for a performance advantage.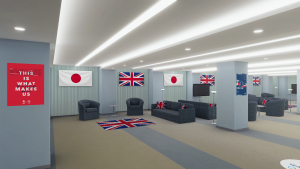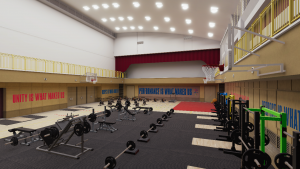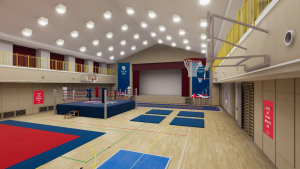 Hugely beneficial for our partner,
Team GB
"We were very proud to work with Lampada to deliver this project. The videos were hugely beneficial for our official partner Team GB, and helped them visualise the spaces in Tokyo. The team at Lampada, were so patient and brilliant. They were organised and had great techniques (such as the whiteboard) to help make it as easy as possible."