The
Problem
Wilberforce Institute, at the University of Hull works towards ending labour exploitation and slavery, globally. The influential research conducted by the Institute has received royal recognition and is helping governments, businesses, and communities root out slavery at its very source – one of the greatest threats to human rights. Wilberforce Institute has become a world leader in the study and explication of slavery today.
The Institute had an existing curriculum on the Modern Slavery Act to help
PhD students at the University study and conduct life-changing research around policy reforms;
Businesses and organisations to work hand-in-hand for creating a robust ethical supply chain; and
Universities to educate the policy-makers of the future.
In order to reach a wider audience across the globe, there was a pressing need to transform the existing curriculum into online learning. The Institute also needed a platform to host these online courses with a set of features that would help them with user and course management for future.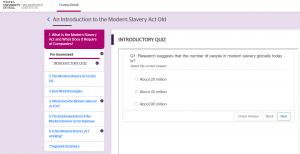 Wilberforce Institute approached Lampada for a solution to address its need of developing an online curriculum.
Lampada's Instructional Design (ID)  team assessed the existing curriculum for Modern Slavery Act. A content architecture and design strategy for an e-learning course was proposed which would transform the current static content into interactive elements using photographs, infographics, videos, knowledge checks, case studies, assignments, job aids etc. The course was designed and developed using Lampada FROST (a narrative content authoring platform supporting structured XML and WYSIWYG editors).
To address the hosting needs, Lampada's Technology experts developed a custom web-based platform. This platform provided features for user management such as self-registration on the platform, email notifications etc. The administrator dashboard allowed generation of reports such as user registration report, course status report by user (Not started, In progress, Completed). The platform also provided the feature for generating course completion certificate which could be printed/viewed/downloaded by the users post successful completion of the online course.
Wilberforce
Institute
"The new Modern Slavery Act online course built using a modern instructional design approach based on Gagne's Nine Events of Instruction helped Wilberforce Institute to attract and engage learners. The online course allows the Institute to receive the expected exposure and outreach to the global audiences thereby enabling it to promote its research and increase the user enrolment. Lampada FROST allows Wilberforce Institute to build and publish not just one but multiple online learning courses using a standard content architecture, theme, and schema with the help of a single authoring platform. The courses developed using FROST can be published for direct upload on the custom web-based platform with a single click of a button. All-in-all an easy and rapid authoring and publishing solution for Wilberforce Institute to develop future courses."